Welcome to the press kit for bestselling author Elisabeth Fayt!
When someone is on the road to nowhere, can they just pave a new road?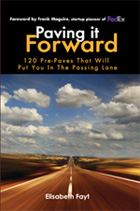 Through her seminars, workshops, retreats, speaking engagements, and new bestselling book, Paving it Forward, international speaker, author, and owner of RnR Wellness Elisabeth Fayt (say Fate) teaches others how to use their thoughts and intentions to pre-pave a new road to the best possible day and life. In tough economic times, it is easy to get caught up in the whirlwind of negativity. This is when it is more important than ever to pay close attention to the road you are paving. According to Elisabeth, "I believe the best thing you can do for someone is to teach them to change their thought. Then they can create happiness for themselves, at will, regardless of any circumstance or environment."
The roadmap given to most people when they are children is often less than helpful. Through pre-paving, Elisabeth teaches how to create a new roadmap, one that takes people where they want to go – to health, wealth, and love. Her students learn how to respond to their circumstances in a powerful way by learning to use the energy of thought and energy of intention to create the roadmap they desire. The power of her teachings led her to be one of the featured speakers in The Opus Movie, deemed as the next step after The Secret.
In her highly successful spa business, Elisabeth has catered to the likes of Eric Clapton, Robert Plant, and Lisa Presley. She also spent 10 years working side by side with billionaire Ron Joyce. Through the years, Elisabeth has learned what it takes to be financially successful.
Elisabeth is also a Reiki master who has spent ten years studying with Indian masters. Through these practices she has learned what it takes to be spiritually balanced. By bridging these two worlds, Elisabeth has become an incredibly successful author, speaker, and abundance coach.
Download a One Pager.
Check out Elisabeth Fayt's Web site at www.PavingitForward.com.
Facebook Page - http://www.facebook.com/elisabethfayt

Facebook Fan Page - http://www.facebook.com/rnrwellness
Media Contact is Michelle Tennant: Michelle@PublicityResults.com, 828.749.3200